This is us!  We are 4th, 5th and 6th class in Ms Connolly's room.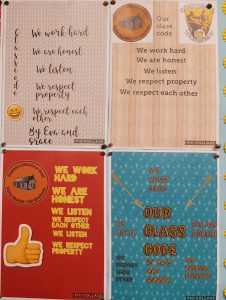 We worked together to decide what was important to us in our class. We talked about what we needed to do to make our classroom a good place to be, work and play. We decided that our class code would be that;
We work hard
We are honest
We listen
We respect property
We respect each other
We use a lot of ICT and technology in our classroom. One of the apps we use every week is called Seesaw. With Seesaw we each have our own folder that we store our work. We can take pictures and video as well as writing and uploading pieces we create from other apps. Our parents have a Family Seesaw app and they get a notification when we upload a piece of work so that they can see what we have been working on. Here's some of the pieces we've saved so far.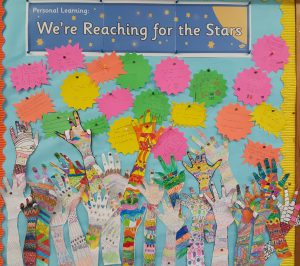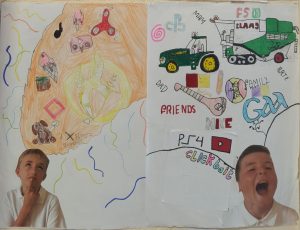 We also create video. Here you can see a stop-motion animation video we made about the digestive system.
Reading is vitally important in our classroom. Pupils who read, succeed! Every night, without fail you should be reading for at least 20 minutes at home. This research from Nagy and Herman clearly explains why. Read, read, read!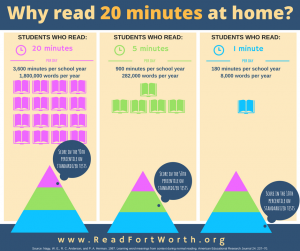 Reading is a priority in our room. We have a nice quiet time during the day where we read and relax. A lot of us choose a book from our 50 Book Challenge. This is a list of 50 books that you really should read before you leave primary school. It is a broad list of books including suggestions from pupils in our class, our teachers and contains a variety of genres, authors and levels of reading. We hope you'll take part in the challenge too!
We don't use spelling workbooks in our class. Instead we learn spelling rules, word families, commonly misspelt words and words from our writing. We do stations every morning to practice these words. One of our stations is for our Irish spellings. We create the lists of words that we learn for the week.
Eoin from Leave No Trace visited us to teach us all out the seven principles of Leave No Trace. He showed us some fantastic camping and orienteering equipment and we all learned something about cleaning up our waste – and we don't mean just rubbish!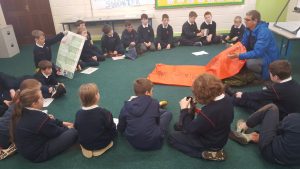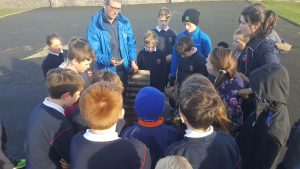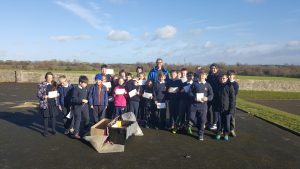 Sing Out Loud! We had the most incredible time performing in the Wexford Opera House. We were front and centre and most definitely had the best seats in the house! Extreme Rhythm were amazing!